Don't just stand by and watch, do something to stop your city from 'suffocating'!
News
A new piece of interactive public art, presented as part of Bristol Ideas' Festival of the Future City in October, challenged spectators to take action to tackle the impact of air pollution on our cities and their inhabitants. 
Southwest artist Leo Jamelli created the 'Suffocating City' installation to raise public awareness of the worsening problem of urban air pollution and encourage people to adopt a greener approach to city living to help address the climate emergency. Air quality has been identified as the greatest environmental threat to public health globally.
Funded by Arts Council England, the animation represents the city as a living organism with a heart, lungs, and intestines; industrial pipes are attached to these human organs, symbolising the brutal impact of industrialisation and air pollution on our health.
Suffocating City was projected onto the Arnolfini in Bristol from 18-19 October 2023 as part of Bristol Ideas' Festival of the Future City. Members of the public interacted with the installation by using pedal power to keep the 'organism' alive.
The imagery has been inspired by the concerns of community groups in Bristol and informed by research carried out by The Met Office and members of the Clean Air Champions.
Creator Leo Jamelli says, "The organs struggle to function and almost suffocate due to air pollution; I wanted to take a different approach with the imagery for this project to show inhabitants of large urban areas, who may seem disconnected from the natural world, that climate issues will also have a serious impact on those living in our cities.
"As the animated organs begin to fail due to air pollutants, the heart goes into cardiac arrest. An old-fashioned exercise bike acts as a defibrillator, and spectators can take action by pedalling to charge it up – helping bring the city back to life. The idea is to use alternative forms of greener energy which can help save our cities. It would be fantastic if Suffocating City could be taken to different cities around the UK or even further."
Bristol was the European Green Capital in 2015 and has now declared a climate emergency. High levels of air pollution have led to the development of the newly introduced Clean Air Zone.
The Festival of the Future City aims to be the largest public debate about the future of cities. It brings together politicians, writers, artists, scientists, change-makers, academics, journalists, students, economists, futurists, policymakers, roboticists, philosophers, filmmakers, think tanks, charities, social enterprises, city-builders and the general public.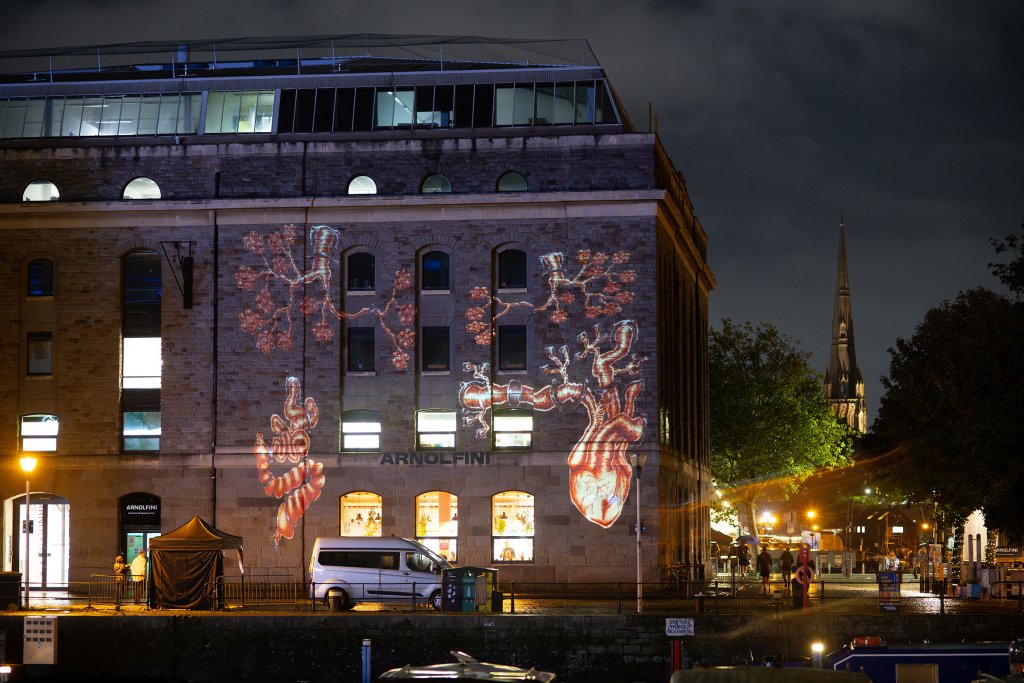 Leo's hand-drawn animation will be accompanied by sound, created by Moss Covered Technology, aka Grieg Baird, breathing life into this huge project. Devon-based Stage Engage provided the equipment and setup the projection for the installation.
Photo: Steve Haywood
Naomi Miller of Bristol Ideas says, "The air in most of our towns and cities is up to five times more polluted than the World Health Organisation Air Quality Guidelines recommend. Leo Jamelli's sensitive new artwork, Suffocating City, brings the hearts and lungs of our cities to life and reminds us how much is at stake. We are delighted to be showing it as part of this year's Festival of the Future City, where audiences will be invited to engage with these topics further."
The artwork draws on information from the Clean Air Champions, who bring together outstanding researchers in the fields of atmospheric, medical, and social science to develop solutions to tackle air quality issues.
Professor Sir Stephen Holgate is an authority on environmental pollution and has published influential reports on its health impacts. He says, "We urgently need to clean up the air we depend upon for life because dirty air is now known to be one of the greatest environmental risks to health, accounting for 7 million deaths around the world every year. Air pollution also has insidious effects, sometimes triggering a severe worsening of diseases such as asthma or coronary heart disease, most often adding to other stressors in accelerating many different diseases.
"We are exposed to air pollution, both indoors and out, throughout our lifetime. In addition, air pollution is an issue of social injustice, with those most affected being those who are most deprived. As this artwork shows, this public health emergency demands we all take action to drive down emissions. In doing so, we will also help save the planet because air pollution and climate change are two sides of the same coin."
Noel Nelson has worked for the Met Office for over 30 years as an air quality scientist and has engaged with the Government on air quality matters. He says, "The challenges we face regarding poor air quality are pervasive, insidious, and intrinsically linked to our modern way of life. Air pollution is gradually making all of us ill and shortening our lives. The development of sustainable solutions requires effort not just from scientists, but from a wide range of experts and the general public. The work of the Met Office and the UKRI Clean Air Champions seeks to bring together expertise from all relevant sectors. This art installation will impress upon us all the urgent need for change. It is essential that we tackle this issue collectively – we all have a role to play."
Research from Kings College London illustrated that long-term exposure to poor air quality is estimated to cause up to 36,000 premature deaths in the UK every year, and Public Health England estimated that the cost of air pollution on health and social care in England could amount to £5.3 billion by 2035 if we continue at present air pollution levels. United Nations Environment Programme states that air pollution and climate change are closely linked as both are caused by greenhouse gases. Reducing air pollution will improve human health and bring environmental benefits.
Black Carbon, or soot, is part of a spectrum of particulate matter which is an air pollutant (PM), these particles are emitted from a variety of sources including gas and diesel engines, coal fired power plants and sources that burn fossil fuels. They form due to the incomplete combustion of fossil fuels. Transport and traffic are the main sources within our cities and urban areas. The burning of Coal and biomass fuels for producing energy for our homes, agriculture, industrial production, and burning of waste emit Black Carbon and other particulates, both primary and secondary (i.e. those that form in the atmosphere), which impact our health by accelerating disease processes and causing deaths in heart disease, strokes and lung disease. Due to Black Carbons being dark in colour they absorb sunlight and convert it into heat, warming the atmosphere. BC particles also contribute to accelerating the melting of icecaps and snow due to the same reason. When falling on plant life and crops they reduce the amount of sunlight they can use for photosynthesis, thus reducing crop production. Regional rainfall can be affected with BC particles preventing the formation of clouds.
How to reduce air pollution
▪ Develop more green forms of transport and public transport in our cities, moving away from modes of transport which produce Black Carbon, introduce clean air zones
▪ Promote efficient driving practices that reduce emissions, such as turning your engine off rather than idling
▪ Promote and encourage more use of sustainable energy sources for businesses and homes, moving away from fossil fuel operations
▪ Greener architecture and construction practices to make our living spaces more energy efficient
▪ More green spaces, community growing projects, planting more trees
▪ Reduce and recycle rubbish instead of burning it. Recycle and upcycle clothes.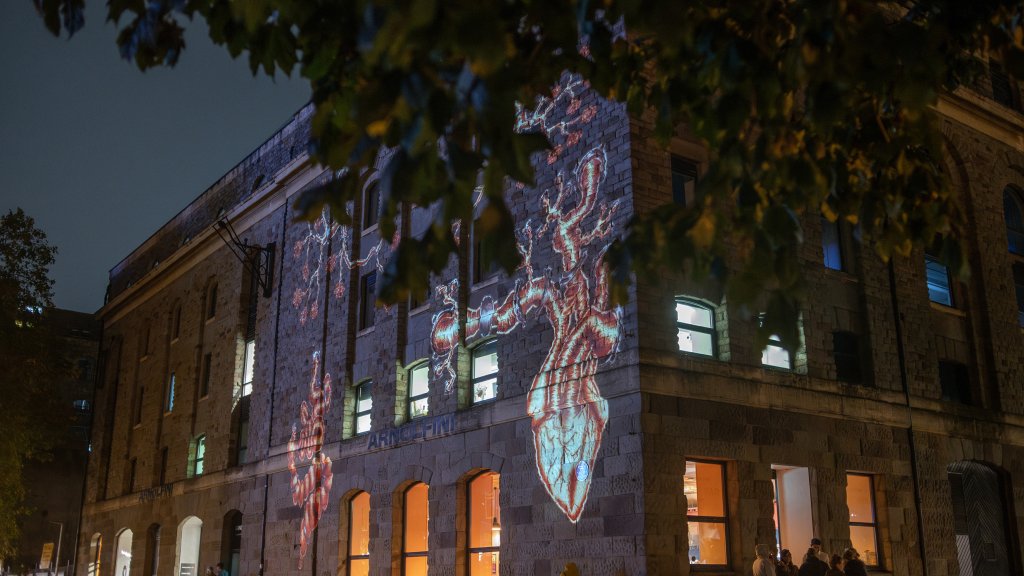 Photos: Steve Haywood
Back to all