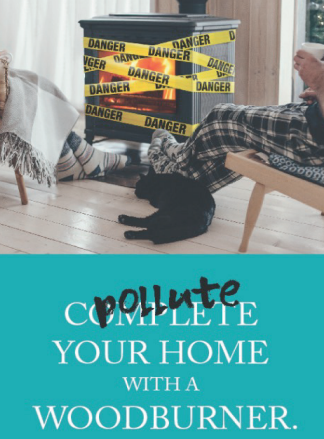 Global Action Plan release a new toolkit to address the issue of domestic burning of solid fuels.
Solid fuel burning in homes, which includes wood and a small proportion of coal, is the single biggest source of PM2.5 pollution, accounting for 27% of all emissions. The use of wood as a fuel accounts for 75% of these emissions, with an increase of 124% in PM2.5 from wood burning between 2011 and 2021.
Woodburning: Large impacts and low awareness
The growing contribution of domestic wood burning to PM2.5 emissions reflects an uptick in interest in wood burning stoves – with the Stove Industry Alliance reporting a 40% increase in sales between 2021 and 2022.
Many of these are likely to have been bought for the aesthetic purpose of creating a cosy atmosphere, rather than for more functional purposes or out of necessity.
At the same time, there is currently very low awareness of the contribution of domestic wood burning to air pollution, which in quantitative research commissioned as part of this study was consistently ranked as the least significant source compared to road transport, manufacturing and industrial processes. Moreover, both burners and nonburners tend to have positive associations with wood burning, relating to warmth, cosiness, and comfort.
Considering the significant impact of domestic wood burning on air pollution and current low levels of awareness around the issue, there is an opportunity to improve public health outcomes by communicating the harms and in turn reducing the uptake of burners and the use of existing burners. This toolkit aims to provide evidence based guidance on how to most effectively communicate around the issue to inform the activities of stakeholders working in this space.
Please see the toolkit for sources of statistics.
Back to all