Clean Air Day, 15th June 2023
Event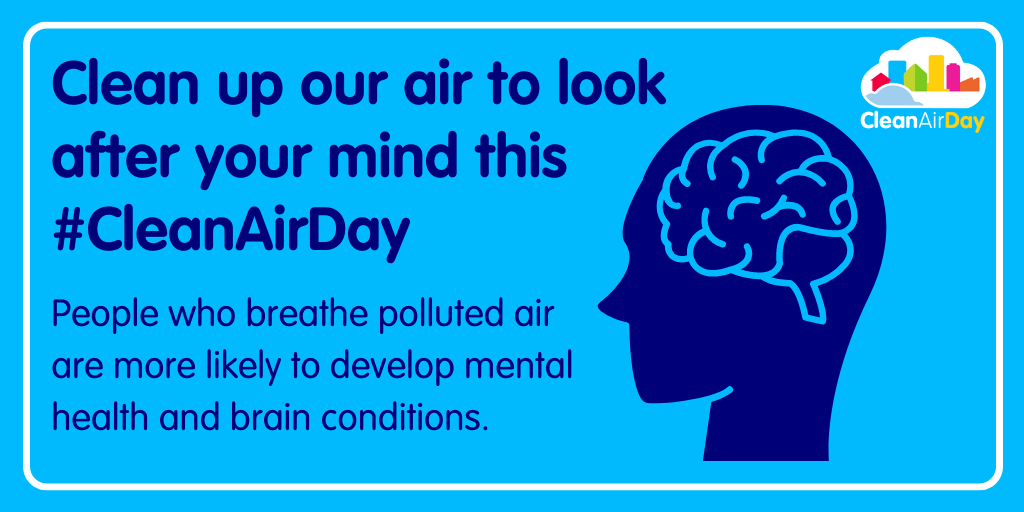 Clean up our air to look after your mind this #CleanAirDay
This year, Clean Air Day will be focusing on mental health and brain conditions. Cleaning up our air is good for us in many ways: it not only benefits our physical health and the environment but can also protect our mental and brain health. The physical health impacts of air pollution – such as asthma, heart disease and cancers – have been recognised for decades. More recently, researchers are beginning to understand how air pollution can affect the brain and the mind.
Professor Sir Stephen Holgate, Clean Air Champion, said:
"Everyone should have a right to breathe clean air. But in the UK our air is contaminated with pollutants a large proportion of which emanate from human activities especially combustion. The small particles (PM2.5) in particular penetrate the lungs and circulate to accelerate many diseases across the lifetime with effects from birth to old age. On Clean Air Day let us show our resolve to tackle this public health crisis by doing what we can to advocate for clean air, inside and outside, and set an example by our own actions."
Follow @uk_cleanair on Twitter for news on #cleanairday
Webinar: The future of hydrogen in transport – our route to net zero?
TRANSITION Clean Air Network: 14:00 – 15:00 | Thursday 15 June
Video: How we can reduce air pollution in our lives
Dr Heather Price: Clean Air Programme Regional Champion for Scotland
Back to all