WellHome: measuring air pollution in homes with children with asthma
News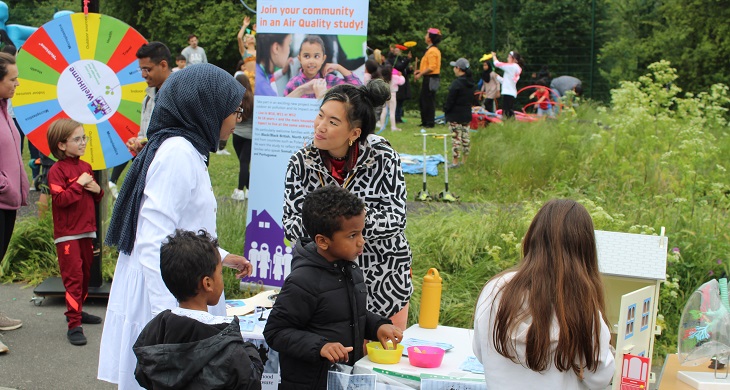 Alice Pengelly from the Clean Air Champions team spoke to Esther Lie at WellHome to find out why they're measuring air quality in over 100 London homes, focusing on children with asthma.
Esther is Community Engagement Coordinator for The West London Healthy Home and Environment Study (WellHome), led by Imperial College London. She is responsible for an essential part of the project – to work with people in the local community in White City, West London, and the surrounding neighbourhoods.
Air quality in children's homes
Children growing up in the UK today represent an 'indoor child generation', with most of their activities taking place in enclosed spaces such as homes and schools. Yet the link between indoor air quality and public health is under-researched. 
Co-designed with the local community in White City, West London, the WellHome study focuses on the air quality inside and outside of over 100 homes with children with asthma or allergies.
The aim of the study is to identify dominant air pollution exposures across the indoor:outdoor continuum within vulnerable and diverse urban communities. It also aims to identify behavioural changes that can reduce this exposure and improve families' health.
"It's really exciting, because it will be the biggest research study that Imperial will have embarked upon working with the community, and there are lots of ways for people to get involved," Esther explains. "We are focusing on indoor air pollution, working with families particularly from diverse ethnic groups and different walks of life"
Engaging local people
Esther's background is mainly in STEM/Arts education and community engagement. She has a science degree, and has worked at various museums, galleries and science festivals, including as an Explainer at the Science Museum.
Within WellHome, Esther collaborates with nine WellHome Community Ambassadors – community members that act as 'satellites' for the project and advocates out in the community.  They also are the key advisory group the team can turn to for their views, at crucial points in the project. 
Esther says she enjoys being part of such a large-scale, cutting-edge study, listening to resident's experiences, and building relationships with local residents in such a vibrant, tight-knit community.
She also really enjoys working with her team on this co-production approach to the study, and particularly thrives off the PhD students' enthusiasm. An essential component of maintaining engagement with the cohort is to co-develop a community air quality hub, where local residents can go to access educational materials, cases studies of the indoor data they gathered and measurements from ambient air quality nodes with in their neighbourhood, as part of the Breathe London community network managed by Imperial College London. 
Viewing this in a broader perspective, Esther says, "I think we have a real responsibility in White City. People see us in our 'ivory towers' but the ways in which ordinary people can engage with research is often not so clear. People's stories, experiences and perceptions are fundamental to improving the local environment – especially when you are going into people's private spaces – and collective ownership is key." 
"But air pollution is something that everyone can connect to. This is a unique opportunity in which families can play an active role in measuring air quality and have a meaningful impact on health and the climate." 
To find out more about WellHome, please see the short animation: https://www.youtube.com/watch?v=E2RC97To87I
For further information and to get in touch, please visit: https://linktr.ee/WellHomeStudy
Back to all