OSCA: Monitoring air pollution at 'supersites' in the UK's three largest cities
News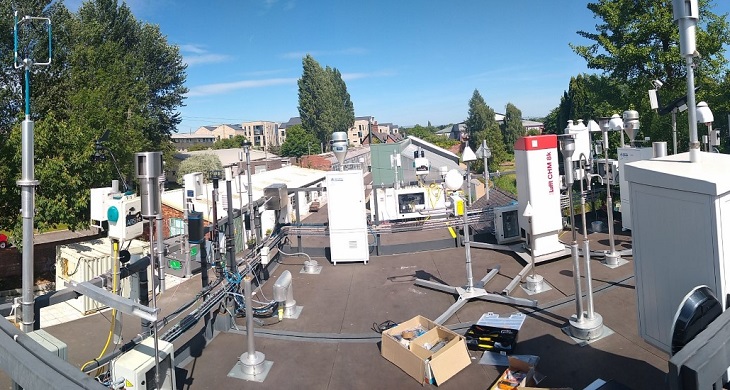 Alice Pengelly from the Clean Air Champions team met with Dr James Allan to learn all about the UK's most advanced air pollution research sites.
The Integrated Research Observation System for Clean Air (OSCA) is a collaborative UKRI Strategic Priorities Fund (Clean Air) project to monitor air pollution in the UK and identify the main sources.
Intensive data collection
Dr James Allan at the University of Manchester has led two periods of intensive data collection at the Natural Environment Research Council (NERC)'s three supersites in London, Manchester and Birmingham.
These intensive periods, during summer and winter 2021, allow lots of measurements to be taken at the same place and time. They are intended to complement the project's long-term air pollution monitoring and to compare differences in summer and winter sources of outdoor air pollution, such as those from fireplaces and log burners.
It also means they can study the effect the weather has on air pollution. In the summer, for example, chemical reactions with pollutants in strong sunlight can raise the levels of ozone, which if breathed in can damage the lungs.
Informing difficult decisions
So far, Dr Allan explains, air pollution policies have tended to address the 'low-hanging fruit', for example by ensuring all new cars are fitted with particle filters. Bringing down air pollution levels further requires more difficult decisions to be made. This, he says, requires high quality data – which is where OSCA comes in.
"There's some real challenges to how they're going to address this, and this needs to be informed by the best possible science and understanding of how it all works, " he explains. "There's still a lot we need to research in order to give the most accurate scientific predictions possible."
While OSCA is measuring a wide range of different air pollutants, they will focus on those most helpful for informing policies. These include pollutants known to be harmful to health, such as nitrogen dioxide from car fumes, brake and tyre dust, and wood burning smoke.
"At the moment the pollutant making headlines is nitrogen dioxide," he says, "and rightly so – there were many cities that, right up until lockdown hit, were reporting illegally high concentrations."
Predicting potential issues
While many policies to tackle climate change go hand-in-hand with improving air pollution, such as the switch to electric vehicles, OSCA aims to predict any unintended consequences of net zero policies.
This was seen, for example, when diesel engines were encouraged due to their lower carbon emissions, without considering the effect it would have on air pollutants linked to health problems.
You might think the switch to electric vehicles will mean air pollution is no longer an issue – after all, Dr Allan says, there's no exhaust fumes if there's no exhaust. But it's not quite that simple.
"You can replace all of the cars on the road with more modern versions, even electric vehicles that don't emit any nitrogen dioxide at all," he explains, "but you still might need to worry about dust coming from the brakes or the tyres."
This is particularly true in light of new guidance by the World Health Organisation to limit tiny PM2.5 particles to 5µg/m2 – half their previous recommendation – due to the associated health benefits.
All the data OSCA collects will be made publically available. They are looking to form new collaborations with other researchers, with expertise in areas such as toxicology, to analyse it.
The results will help inform policies, particularly in cities, which could promote the use of electric vehicles, limits on wood burning, and encouraging travel by public transport, walking and cycling. In this way, the project could help cut air pollution in the UK and improve people's health.
"One thing I love about my job is gaining new, cutting edge insights into topics of interest," says Dr Allan. "This has been particularly rewarding for this project, given the importance of the subject matter when it comes to the public's health."
Back to all